Recently I was watching a tv travelogue that highlighted artists from Arizona. Suddenly I recognized a familiar street scene from one of my favorite places: Bisbee, Arizona.
The artist who was being featured in the show told how he came to live in Bisbee. As a young hippie in the early 1970's, he decided to go out West and see the country. When he got to Bisbee, he was enchanted. "I never knew there could be a place liked this" he told the interviewer. I fell in love with this place and I never left. I have been here doing my art ever since".
I knew perfectly well what he was talking about. I love going to Bisbee myself.
Bisbee is an old mining town southeast of Tucson, just this side of the Mexican border. In the early days it was a thriving mining community. But in the 1970's the copper ran out. The mine was closed and the economic foundation of the community dried up. Like most old mining towns in the southwest, Bisbee struggled to stay alive.
Bisbee is 90 miles southeast of Tucson along a major country road. The old historic part of town was built in a narrow gulch near the mine. The main streets in town meander around the base of the hills and with Victorian storefronts crowded up next to the streets. Quaint wooden shacks hang on the edge of the hillside overlooking the town. Bisbee looks like a movie set but it is 100 percent real.
When the last mine closed in the 1970s it looked as if Bisbee would crater. But many of the old miners who lived in the town were determined to hold on. And then the hippies discovered it. Drawn by cheap housing and picturesque charm, the hippies—like the artist featured in the show—stayed and started to fix up the old buildings. When the old miners saw the commitment of these strange young people to keeping the community alive, they formed an uneasy bond with these newcomers. Everyone wanted the same thing. They wanted Bisbee to survive.
To understand Bisbee, it helps to compare it with the next town down the road which is Tombstone, Arizona. You may have heard of Tombstone. It is where Wyatt Earp and Doc Holliday had their famous gunfight at the OK Corral. Tombstone was a frontier town and a ranching center for the ranches around it. It sits out in the open on a high plane with great views of the rolling countryside. Ranching never died out. Unlike Bisbee, Tombstone never had to deal with the sudden loss of its economic base.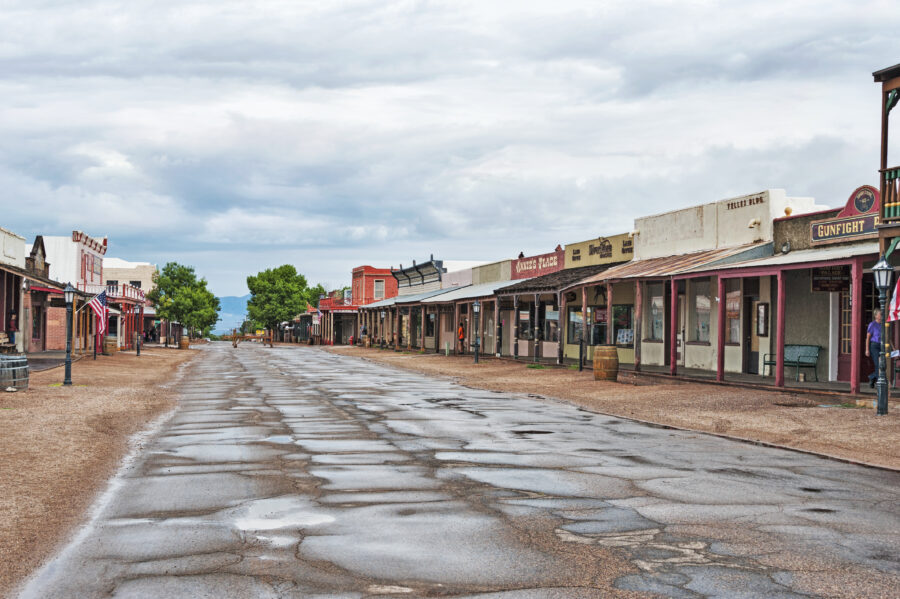 Tombstone has one other thing going for it: history. People have heard about the wild west and the historic role that this town played in that history. All of this history is encapsulated in the now famous duel at the OK Corral. Tombstone takes advantage of this history. It promotes itself as a must-see venue for those coming to visit Tucson. Actors playing historical people walk around town to give it more color. The gunfight at the OK Corral is re-enacted several times a day. Tombstone is part genuine history and part flim-flam. It is worth seeing once, but few people go back a second time around.
Bisbee and Tombstone are connected by the only road in the area. Tombstone is out in the flat and closer to Tucson. Bisbee is up in the mountains and further away. There is one other major difference between these two towns: the tourists go to Tombstone, but we Tucsonans go to Bisbee. Bisbee is the place that draws us back.
Bisbee is important to me. I do not go there often, but that does not matter. What matters is that I can go there any time I wish. And Bisbee is a place where I want to return. This is not usually true for most places I have visited.
So, what is it about Bisbee that pulls me back? Well, obviously, the quaint Victorian village nestled at the bottom of a gorge. But there is more. Being remote, it does not draw a lot of tourists. Bisbee never tries to be anything more than what it is. There is a refreshing honesty about the place. It still struggles economically. The people are friendly and engaging. There are several good restaurants and hotels. There is enough to make it interesting but not so much that it is overrun by people. I never tire of going there.
So, why am I telling you about Bisbee?
I hope that this website will be for you a little like what Bisbee is for me: a place you especially enjoy the first time you are here and that you look forward to returning to when the desire—or perhaps the need—prompts you to do so.
Resource for Life is a learning environment that is visually rich and stimulating while at the same time offering content that we hope speaks directly to your own life experience. We are not selling anything. Nor are we trying to appeal to tourists who want to buy souvenirs. We hope it becomes a place for you like what Bisbee is for me: a unique and inviting spot that you may want to revisit.
We invite you to bookmark this site so that you have a convenient way to find us when you want to return. We will never bug you with annoying emails or texts.
You know who we are, where we are, and hopefully you have some sense of what we are. And like Bisbee, we hope this becomes a place where you want to return to every now and then.